Community Anchors' Fund North East is currently closed for applications.
What is the Community Anchors' Fund North East?
We believe that everyone has the right to live in a vibrant and diverse neighbourhood. Community Anchors' Fund North East provides flexible funding to support vital local organisations in their efforts to help people to tackle the impact of poverty on their local community.
Community Anchor organisations play a vital, practical role in reducing the impact of poverty in the neighbourhoods in which they operate.
Community Anchors run, support, or are home to:
Projects that link people to sources of lower cost credit
Projects that tackle fuel and data poverty
Employment support and training programmes
Projects operating in the private rented sector providing a good standard of housing and practical support to their tenants - many working with young people, some as they leave local authority care
Flexible funding
Grants up to £30,000
Funding to cover day-to-day running costs
Funding to cover project costs
Awards can be spread over one, two, or three years
Funding to cover capital costs
Frequently Asked Questions
Community anchors have people at their heart. They provide local people with support, services, activities, and volunteering opportunities. Local people shape their work and inform their activities. Typically we expect community anchors to work with a broad cross section of the community. This would include people of all ages, genders, and ethnicities, designing work that meets the needs of the community at large and the demographic that it contains.
We expect a community anchor to meet the criteria set out under the 'We expect a community anchor to:' section below.
If you are unsure whether your organisation meets our definition of a community anchor or would like to discuss your application please email: info@virginmoneyfoundation.org.uk - we are very happy to talk to you.
Meadow Well Connected is a community hub which has been serving the residents of North Shields for almost 30 years. In response to the challenges of Covid-19 it has adapted and shifted the way that it provides services, concentrating on improving its extensive outdoor spaces, so that people can meet safely. It works to reduce social isolation and increase human connections to improve the wellbeing of residents, empowering them to confidently make better life choices. It is blending the way it works to include online activities, small groups meeting outside whenever possible, one-to-one support and activities delivered to individual households.
The money for the Community Anchors' Fund has been allocated for the year and the programme is now closed.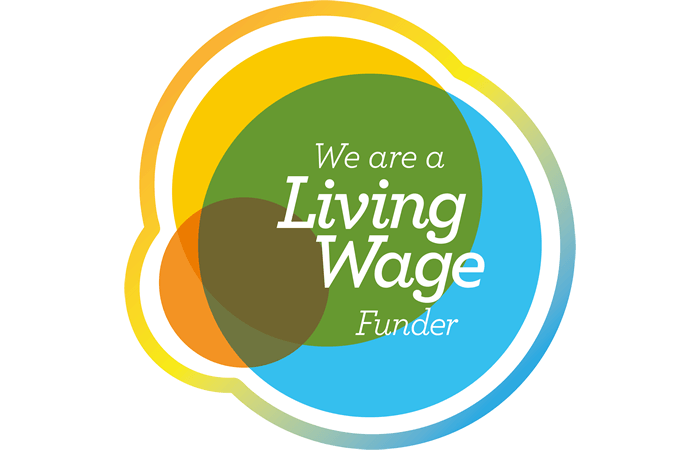 We are proud to be a Living Wage Funder, committed to tackling low pay by encouraging and enabling the organisations we support to pay the real Living Wage.